We spend one-third of our lives sleeping. Because of this, it is crucial to find pillows that are supportive and comfortable. Individuals suffering from headaches have a more difficult time finding a pillow as they are dealing with pain at the same time. Thankfully, several companies offer pillows that help individuals rest or sleep while alleviating their headaches. This list provides options for the best pillow for headaches on the market today. This list was compiled based on customers' ratings and reviews.
7. D-Core Cervical Support Pillow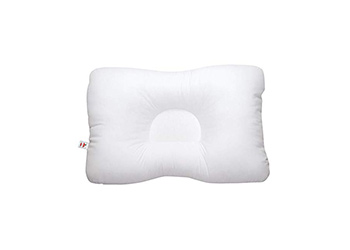 Size:
26.5 x 19 x 5.5 in/ 67.31 x 48.26 x 13.97 cm
The D-Core pillow is the best pillow for headaches due to its innovative and effective design. The pillow provides even support across regions of the head and neck while allowing the head to rest in an indented area. This pillow is designed to effectively straighten the neck and back, aligning the spine to alleviate pressure and pain in the head and neck areas. The cradled design works to keep the head secured in place so you are not woken during a good night's rest by discomfort.
Pros
Comes in two sizes for a more customized fit
Works exceptionally well for aligning the spine
Provides even and firm support across the shoulders, head, and neck
Cons
Not a great option for side sleepers
Not too reliable for stomach sleepers
The cushion is a bit full and firm, which takes some getting used to
6. The Water Pillow by Mediflow
Material:
Dacron hollofil fiber
Size:
28 x 20 x 4.5 in / 71.12 x 50.8 x 11.43 cm
The water pillow offered by Mediflow is the best pillow for headaches based on its cooling and comfortable design. This pillow is clinically proven to work effectively for reducing neck pain and improving your ability to sleep. The dacron hollofil fiber layer is encased in 100% cotton, ensuring softness against your skin. This pillow works very well at providing customizable support from the water base that helps you fall asleep quicker and stay asleep through the entire night.
Pros
Users can adjust the pillow to find their ideal level of firmness
The water layer is thin yet effective
This pillow helps head and neck pains immensely
Cons
Some users were not impressed with the quality of the pillow
The pillow is quite expensive
5. Dual Plus Ergonomic Pillow
Size:
23.5 x 12.5 x 5 in / 59.69 x 31.75 x 12.7 cm
The Dual Plus Ergonomic pillow is the best pillow for headaches on the market today due to the time and effort doctors put into designing it. A team of medical professionals designed this pillow to create the best postural alignment through the use of their patented pillow spine. This pillow is extremely comfortable and supportive. It serves its purpose of alleviating headaches and provides neck, back, and shoulder relief as well.
Pros
Provides stable and consistent neck and head support
Keeps the spinal cord perfectly aligned all night long
Very good option for a good night sleep
Cons
Very expensive option for a pillow
This pillow is best used by back sleepers and does not work too well for side or stomach sleepers at providing the desired relief
The pillow is oddly shaped
4. Save and Soft Gel Memory Foam Pillow
Material:
Gel Memory Foam
Size:
20 x 12 x 4 in / 50.8 x 30.48 x 10.16 cm
This uniquely designed pillow contains a gel pad that makes it the best pillow for headaches. The gel keeps your head cool and fully supported throughout the entire night. While other pillows tend to fall flat over time, this gel memory foam design keeps its shape so you can experience a truly aligned neck and spine as you rest. This pillow is chiropractor-approved and recommended. The company is so confident in its performance that they offer a satisfaction guarantee to customers so they can see all the benefits the pillow provides.
Pros
This pillow stays firm and comfortable even after multiple uses
Works well at maintaining its shape to provide cervical support
This pillow is hypoallergenic and contains no latex
Cons
The gel can emit an unpleasant odor
This pillow does not handle too well in extreme heat
Some find the pillow is not as supportive as they would like it to be
3. Core Headache Ice Pillow
Size:
12 x 11.5 x 5.5 in / 30.48 x 29.21 x 13.97 cm
This is the best pillow for headaches to use as an alternative to medication. This pillow works to alleviate headaches naturally by keeping your head cool and comfortable as you sit or sleep. What's best, this pillow conveniently attaches around your neck so you can use it virtually anywhere. You can keep the gel pack in the freezer between uses so it's cold and ready when you are.
Pros
Extremely convenient and effective design
Works well on the go or in the house
Keeps your head and neck cold and comfortable throughout the entire night
Cons
Some users found the design prevented the ice from touching their neck
The gel pack is thin, which some users did not appreciate
The gel pack can cool quickly in high temperatures
2. Cervical Traction Chiropractic Wedge Pillow
Material:
Foam with a bamboo cover
Size:
13 x 6 x 6 in / 33 x 15.24 x 15.24 cm
This uniquely designed wedge pillow is another candidate for the title of the best pillow for headaches. It is extremely supportive, allowing you to rest comfortably and remain in a reliable position. The wedge contains a circular indent for you to rest your head, allowing the spinal cord to align perfectly and remain that way throughout the entire night. Providing ample support to the head, this pillow helps alleviate headaches, stiff neck, and should pain effectively.
Pros
Works exceptionally well at relieving neck and head pain
Extremely comfortable to the touch
Very durable pillow
Cons
The shape takes some getting used to
Some users find the wedge to be too high
The pillow does not fit in a pillow case correctly
1. Best Bamboo Alternative Down Pillow
Size:
17 x 7 x 7 in / 43.18 x 17.78 x 17.78 cm
The bamboo alternative down pillow is by far the best pillow for headaches on the market today. This pillow is comfortable, supportive, and extremely affordable. Anyone suffering headaches and neck pains can truly appreciate how important it is to find a pillow that is reliable enough to provide a full night of sleep, and this pillow will not let you down. The level of comfort is customizable — users can add or remove stuffing to find the level of support they desire. The cover is removable, making cleaning and caring for the pillow easier than ever.
Pros
Contains hypoallergenic polyester that doesn't irritate sensitive sleepers
The removable cover is cooling and extremely durable
Very soft yet supportive pillow
Cons
Some find this pillow to be too flat
Some users are not pleased with the level of support and firmness
Not the best option for side sleepers
Conclusion
This list covers options for the best pillow for headaches on the market today. Each of these pillows provides relief for headaches that you can rely on. Even more, they work to align the spine perfectly night after night so you can rest in comfort. Have you used any of the pillows on this list? What are your thoughts? Are there other pillows you found to be effective for you? Please share!
---
More Posts Like This One: